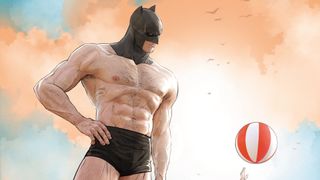 Batman #126 swimsuit variant cover by Mikel Janín
(Image credit: DC)

It gets hot in August in most of the US (and very hot in a big part of it) so DC is letting some of its superheroes ditch the spandex that doesn't breathe so well in the summertime to cavort in swimsuits (or swimming costumes as our British friends at GamesRadar would say) for the month. 
Hey, in this case, 'swimming costumes' might actually be more appropriate!
No, Bruce Wayne won't be facing down the Joker rockin' just the famous black trunks in the pages of Batman, but DC will be letting the Dark Knight, Catwoman, Nubia, Nightwing, Black Adam, and more hit the beach and the pool in a series of swimsuit variant covers during the summer month by artists like Artgerm, Joëlle Jones, Nicola Scott, Mikel Janín and more. 
Once a staple of the '90s during the Wizard Magazine era, Newsarama counts 10 swimsuit variant covers in August that are a little more subtle in 2022 than they might have once been.
Hey, did we also mention the DC full August 2022 solicits hit your browser on Friday, May 20 at noon ET?
So here's a slightly early look at the swimsuit variant covers we found in DC's August offerings, who drew them, and what issues you'll find the covers on.
Image 1 of 10
Image 2 of 10
Image 3 of 10
Image 4 of 10
Image 5 of 10
Image 6 of 10
Image 7 of 10
Image 8 of 10
Image 9 of 10
Image 10 of 10
Action Comics #1046 by Stanley "Artgerm" Lao
Batman #126 by Mikel Janín
Batman/Superman: World's Finest #6 by Rafa Sandoval
Black Adam #3 by Emanuela Lupacchino
Catwoman #46 by Jeff Dékal
Deathstroke Inc. #12 by David Lapham
Harley Quinn #21 by Megan Huang
Nightwing #95 by Nicola Scott
Nubia: Queen of the Amazons #3 by Derrick Chew
Poison Ivy #3 by Joëlle Jones with Jordie Bellaire
I'm not just the Newsarama founder and editor-in-chief, I'm also a reader. And that reference is just a little bit older than the beginning of my Newsarama journey. I founded what would become the comic book news site in 1996, and except for a brief sojourn at Marvel Comics as its marketing and communications manager in 2003, I've been writing about new comic book titles, creative changes, and occasionally offering my perspective on important industry events and developments for the 25 years since. Despite many changes to Newsarama, my passion for the medium of comic books and the characters makes the last quarter-century (it's crazy to see that in writing) time spent doing what I love most.