Forecast growth of 2022 of 4.3% comes on the back of a statistically freakish 13.3% growth in 2021 – a year in which the construction industry rebounded from the initial Covid lockdowns of 2020.
The CPA predicts that UK construction industry growth will return to a more sustainable 2.5% in 2023.
Its Winter Forecast shows house-building, the largest sector within the UK construction industry, remaining buoyant, but infrastructure will be the major driver for growth.
Product supply issues, a major challenge in 2021, have eased recently, but may still cause problems, particularly in the peak spring period and particularly for smaller building companies, the CPA warns.
Output in private housing is forecast to rise by 3.0% in both 2022 and 2023 following 17.0% growth in 2021. CPA suggests that the double-digit inflation in house prices will fall as the impact of the end of the stamp duty holiday and the further restriction of the Help to Buy scheme feed through. The outlook for volume remains positive, with most major house-builders reporting strong near-term demand and healthy profit margins.
The private housing repair maintenance and improvement (RMI) sector is forecast to remain flat this year, having reached an historically high level after 17.0% growth last year. Rising renovation project costs and higher inflation rates are expected to slow down consumer spending on larger projects. UK households have benefited from building up more than £200bn of savings from the past two years but rising costs are spelling caution for spending compared to 2021, the CPA says.
CPA Winter Forecast indicates the infrastructure sector to remain as the main driver for growth in 2022. This mirrors its Autumn Forecast, three months ago, which pointed to the five-year spending plans within the regulated sectors of rail, water, roads, and energy, allowing the sector to maintain activity levels and weather supply issues. The Thames Tideway Tunnel, Hinkley Point C and HS2 are in full progress but supply constraints could result in further work being pushed into 2023. Taking this into account, the sector is still expected to rise by 9.7% in 2022 and 1.1% in 2023, taking the sector to a new all-time high.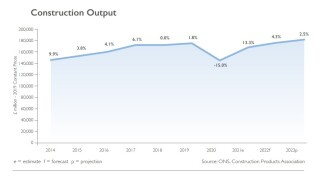 CPA economics director Noble Francis said that issues of supply, though less severe, than in 2021 , would affect different companies in different ways. "Major house-builders and main contractors are less affected as they have better visibility of medium-term demand and can plan and purchase well in advance; plus, they are the larger customers of the manufacturers, builders' merchants and importers," he said.
"Smaller firms, however, have found that availability issues have delayed projects and, consequently, revenue streams whilst sharp cost increases have hit margin, harming their viability even though they have strong workloads. Overall, the latest indications are that supply issues have eased recently, which is a positive sign, although it is still early in the year and before industry activity tends to ramp up in the spring."
Got a story? Email news@theconstructionindex.co.uk