A federal official says the Saskatchewan government had sufficient time to approve the projects without taking shortcuts.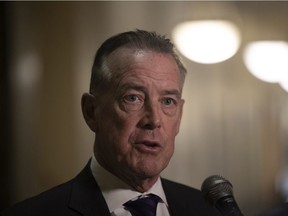 Despite having what was considered ample time, Government Relations Minister Don McMorris says the province felt it was under "political pressure" in 2019 when it approved various municipal projects.
Regina Leader Post Headline News
Sign up to receive daily headline news from Regina Leader-Post, a division of Postmedia Network Inc.
By clicking on the sign up button you consent to receive the above newsletter from Postmedia Network Inc. You may unsubscribe any time by clicking on the unsubscribe link at the bottom of our emails. Postmedia Network Inc. | 365 Bloor Street East, Toronto, Ontario, M4W 3L4 | 416-383-2300
McMorris' explanation comes after Saskatchewan's provincial auditor found the province wasn't transparent when approving the projects. The projects must go under a detailed assessment before they are approved, but cabinet had instead selected out 25 before they underwent that heavier analysis.
"There was a federal election (coming) and some pressure from the local MP at the time, but also the Prime Minister at the time," McMorris said. "There was a sense of urgency from the federal government, we knew that also from the communities but also ourselves."
Recommended from Editorial
The approvals came after the province had received about 1,400 expression of interest submissions between March 5 and April 30, 2019 from municipalities asking for federal and provincial funding.
Provincial Auditor Tara Clemett told the Leader-Post in late September that cabinet would have been able to see roughly 1,000 submissions, but then chose to select 25 before the entire list went through a detailed assessment.
Clemett said the provincial government wasn't being transparent when it did this. It failed to describe "what made these so special and different that you would have approved these so fast and in a different manner than the others," she said.
Article content
The 25 projects represent a total of $185.5 million in grant funding. Of that, $106.4 million came from the federal government and $79.1 million was from the province.
The projects were funded through the Investing in Canada Infrastructure Program (ICIP). They required approval from both the federal and provincial governments before communities saw the money.

Even though McMorris said there was political pressure, a senior federal official familiar with the file said there was sufficient time for the Saskatchewan government to follow due process.
The Leader-Post agreed to not identify the official because the person is not authorized to speak publicly on the matter.
The official said Ottawa had written to Saskatchewan in 2017 to open negotiations on ICIP and had wanted an agreement in place by March 2018.
Article content
Negotiations proved to be slow, they said, with Saskatchewan signing on in October 2018.
However, it wasn't until March 2019 that Saskatchewan began seeking submissions from municipalities.
The province would have then had four months to do its due diligence before the federal election, which the official said would have been a sufficient amount of time.
"Provincially-determined delays absorbed a lot of time between July of 2017 and April of 2019," they said.
McMorris, who wasn't the minister at the time but was aware of the file, said the province wanted to get these dollars out the door to communities.
He said approval from the federal government can take "months and months," even though the province was told it could take 60 days.
Article content
"We knew there was some time crunch issues, and that's why we got those 25 (projects) to the federal government as quickly as we could," McMorris said. "That was kind of the rationale as to why they were put forward."
McMorris said the 25 projects that cabinet chose were in very poor condition and shovel ready.
The projects included the Globe Theatre revitalization project in Regina, the Gordie Howe Sports Complex Master Plan in Saskatoon, the airport runway extension project in Moose Jaw and a recreation centre in Prince Albert.
Also included were festival site upgrades for Shakespeare on the Saskatchewan in Saskatoon, as well as various wastewater and landfill projects in smaller communities.
A southwest waste management expansion was withdrawn because it didn't meet federal eligibility requirements. It failed to increase its capacity to reduce or remediate soil and air pollutants, the province said.
Article content
When asked if there was also pressure from municipalities, McMorris said communities are always looking for help to fund infrastructure projects.
Criticizing the government's hasty approval of the 25 projects, NDP MLA Aleana Young has said all of the submissions should have been treated fairly.
McMorris said there's always more communities in need than dollars to go around.
"It isn't picking winners and losers," he said. "It's trying to look at what are the most needed as that first intake."
Related
The news seems to be flying at us faster all the time. From COVID-19 updates to politics and crime and everything in between, it can be hard to keep up. With that in mind, the Regina Leader-Post has created an Afternoon Headlines newsletter that can be delivered daily to your inbox to help make sure you are up to date with the most vital news of the day. Click here to subscribe.