No party has as successfully hitched its wagon to a single issue as the Sask. Party has in making population growth its brand.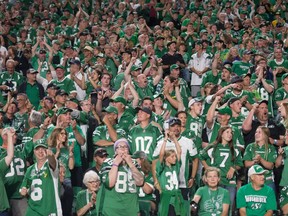 No party has as successfully hitched its wagon to a single issue as the Sask. Party has in making population growth its brand.
Regina Leader Post Headline News
Sign up to receive daily headline news from Regina Leader-Post, a division of Postmedia Network Inc.
By clicking on the sign up button you consent to receive the above newsletter from Postmedia Network Inc. You may unsubscribe any time by clicking on the unsubscribe link at the bottom of our emails. Postmedia Network Inc. | 365 Bloor Street East, Toronto, Ontario, M4W 3L4 | 416-383-2300
Here is the Coles Notes version of our population history and why it's so closely tied to the Sask. Party's success.
Saskatchewan remained stuck at fewer than one million people for decades, with election after election fought over who would bring the children home.
Grant Devine's government saw the province go over the one-million mark for the first time in 1983, but we slipped under seven figures by the time the Progressive Conservatives were booted out of office in 1991.
It wasn't until the waning days of the most-recent NDP government where we again crossed the one-million mark in July 2007,  a few months before the Sask. Party took power.
Whether by good fortune, good timing or good policies, what's indisputable is the Sask. Party is the first Saskatchewan government that's never experienced a major population decline. Also indisputable is the success of the Sask. Party gamble of making population growth its brand … even before such growth was happening.
Its second general election campaign in 2003 was under a theme of "Let's Get Saskatchewan Growing," promising to grow the province by 100,000 people in the first 10 years in office.
After running on a 2007 campaign in which it proclaimed, "Since (former NDP premier) Lorne Calvert took office, Saskatchewan lost 35,000 people to out-migration — most of these young people," former premier Brad Wall's new Sask. Party government made good on its promise of 100,000 people in 10 years.
The Sask. Party has no intention of ever letting voters forget that … even if growth isn't quite what it once was.
We still haven't met that 1.2-million target of the Saskatchewan Plan for Growth: Vision 2020 and Beyond set nearly a decade ago.
And Premier Scott Moe's updated target of 1.4 million by 2030 has seemed beyond reach since Saskatchewan experienced its first quarterly population drop in 14 years just prior to the 2020 election.
Yet it wasn't surprising to see Moe and his government last week glom on to the good news of a 6,465-person increase in population in the second quarter of 2022 and attach it to a new political-sounding campaign of "Growth for Everyone."
The problem is, the numbers aren't quite as comforting as Economy Minister Jeremy Harrison's spin suggests.
For starters, while Harrison was busily spinning this was the best quarter of growth for Saskatchewan since Statstics Canada started keeping quarterly numbers in 1971, he glossed over the fact this was actually the second worst population growth in a growing nation.
In reality, Saskatchewan declined to 3.06 per cent of the Canadian population from 3.07 per cent.
Second, Saskatchewan's growth is also exclusively due to new Canadians. While still good news, the reality is people wth shorter roots are less inclined to stay than people with longer ones. And this province is again losing people with long roots.
The quarterly Statistics Canada figures showed a net loss of 7,902 people through interprovincial migration. Only 15,323 people from other provinces moved in compared with 23,225 Saskatchewan people moving out.
Saskatchewan saw 10,186 people move to Alberta and 5,411 people move to B.C. — the sad, old Saskatchewan story.
When asked about this, Harrison offered the smarmy reply: "Well what you're actually insinuating is that there's some sort of differential in this, that some sort of immigration is more valuable than others."
Well, that would be the aforementioned "differential" Wall and the Sask. Party campaigned on in 2007. In fact, NDP Leader Carla Beck noted Saskatchewan has lost 38,553 to other provinces people since Moe became premier in 2018 — a bigger out-migration in a shorter period than the decline for which Wall bemoaned Calvert.
The only difference is it's now the Sask. Party government's problem … and it doesn't quite fit its political narrative.
Mandryk is the political columnist for the Regina Leader-Post and the Saskatoon StarPhoenix.
Recommended from Editorial
Want to know how we decide what to cover and how editorial decisions are made at the Saskatoon StarPhoenix and Regina Leader-Post? Get the weekly Letter From the Editor newsletter from the Editor in Chief Russell Wangersky and join the discussion on what goes into covering news and delivering commentary, both in print and online. Cl