American tailback Shaq Cooper is back with the Saskatchewan Roughriders for his third stint with the CFL team this season.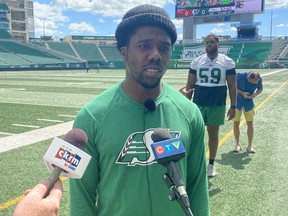 Despite accumulating an untold number of air miles, Shaq Cooper has yet to gain a yard in 2022.
The 29-year-old tailback was among the Saskatchewan Roughriders' final cuts in June, but has nonetheless remained part of the equation due to repeatedly being recalled by the CFL team.
Regina Leader Post Headline News
Sign up to receive daily headline news from Regina Leader-Post, a division of Postmedia Network Inc.
By clicking on the sign up button you consent to receive the above newsletter from Postmedia Network Inc. You may unsubscribe any time by clicking on the unsubscribe link at the bottom of our emails. Postmedia Network Inc. | 365 Bloor Street East, Toronto, Ontario, M4W 3L4 | 416-383-2300
Most recently, Cooper has been brought back to Regina due to the current crisis at tailback. With Jamal Morrow, Frankie Hickson and Kienan LaFrance all injured, Cooper could very well start Friday against the host Hamilton Tiger-Cats.
"Crazy journey," Cooper said after Monday's practice at Mosaic Stadium. "They say things happen for a reason. I was blessed to get another opportunity to come play ball. They gave me a call and now I'm back here."
After making his CFL debut in 2018, Cooper saw action with the Edmonton Elks, B.C. Lions and Winnipeg Blue Bombers before signing with Saskatchewan earlier this year.
Cooper was brought back in late July after an injury forced Hickson to miss one game. On July 29, Cooper was used primarily on special teams, making one tackle on a kickoff return in a 32-17 home-field loss to B.C.
Another two months elapsed before Cooper was again summoned to Saskatchewan.
"It's a rollercoaster, man," said the 5-foot-10, 190-pound graduate of Fort Hays State. "I was told when I first came out of college that 'it's going to be a rollercoaster, so just try to ride it and don't fall off.'
"That's kind of the journey. I've been riding the rollercoaster. Now it's getting towards the end, but I'm still hanging on."
Cooper or fellow American tailback Shaun Wilson will be the featured ball-carrier against Hamilton. Wilson was a candidate to start last Friday, when the Roughriders lost 31-13 in Winnipeg, but ended up suffering a groin injury in practice. National tailback Kienan LaFrance was elevated to front-line duty, only to himself sustain a knee injury during the game.
Hence the return of Cooper, who hails from Coral Gables, Fla.
"We feel sometimes like we're giving him the runaround, but the reality is that you can only have so many guys," Roughriders head coach Craig Dickenson said.
"We felt like we were in good shape, but we told him, 'If we need you, we're going to call you, and if you don't want to come, it's your choice.' But thankfully he decided to come back."
The sports world is ever-changing, as are the times. Supplement your steady diet of sports coverage by subscribing to the Regina Leader-Post's 306 Sports Fix newsletter. Each week, sports editor Rob Vanstone will provide additional commentary on the Roughriders, Pats and other teams/sports of interest, along with a peek behind the curtain. Click here to subscribe.
Recommended from Editorial